A Contact Sent STOP in the middle of a conversation, and I can't reply to them.
When a contact opts out by sending the word STOP, we cannot text them unit we receive START. TCPA requires this, and only the contact can reauthorize us to send messages, and only by texting the word START: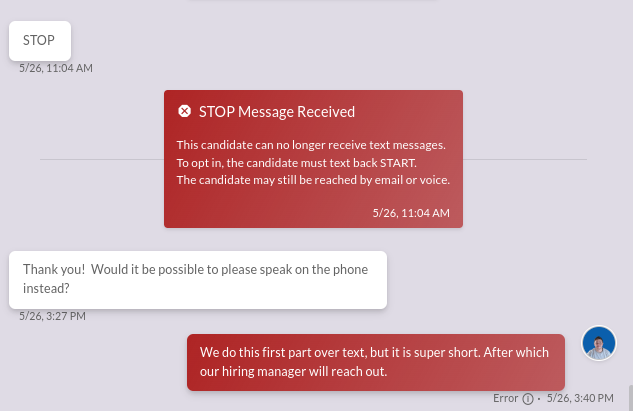 If a contact has not sent START, we cannot reply; even if the contact sends a message to us, any attempts to send messages will show as errors.
Related Articles

When a contact replies STOP

When a contact sends the keyword STOP in a message, PivotCX cannot send SMS or MMS messages to that contact. This is by design, and required by federal regulation and US state law. When a contact replies STOP to a message sent by PivotCX, PivotCX ...

Restarting a conversation after a STOP message is received

If a contact sends STOP to your number, you cannot send text messages to that number until the contact sends START to your number. To restart a conversation, get your contact to send a message with the word START and you'll be able to talk again. ...

How to Open a Conversation

There are multiple ways to go to a specific conversation to start chatting with a candidate: When you are viewing the Deliveries Tab, Messages Tab, Candidates Tab, or Conversation Tab, clicking on a Chat Bubble next to a contact's phone number or ...

Error: Problem creating contact list when importing spreadsheet

If you get a "problem creating contact list" when importing a spreadsheet, it usually means that there is a problem with the spreadsheet. Here is how to check your spreadsheet for problems: Check the headings. If you have an extra heading on one ...

Create a New Conversation with a New or Existing Contact

You can create a new conversation by doing the following. First, click on the plus icon next to the search bar in the top left of the chat view. You'll be led through a series of dialogue boxes. First, type in the number you wish to chat with. If the ...