Active Apply | First Apply | Last Apply
There are times when job seekers apply for more than one job for the same employer. In such cases, PivotCX keeps track of the information related to a candidate's first apply, last apply, and active applications.
First Apply



A contact's initial application gets logged under First Apply.
Active Apply



Once a candidate has engaged with our CDRs, the system sets their most recent application as their Active Apply.
Last Apply



As the name implies, their Last Apply is the latest application we have received for them.
In the PivotCX platform, each of these application types tracks detailed contact data, including:

This information is visible on the Candidate Tab and the Conversation Tab.

Each type of Apply is collapsed to save space across the grid by default. Click on the ">" symbol next to the Apply name to expand all the fields.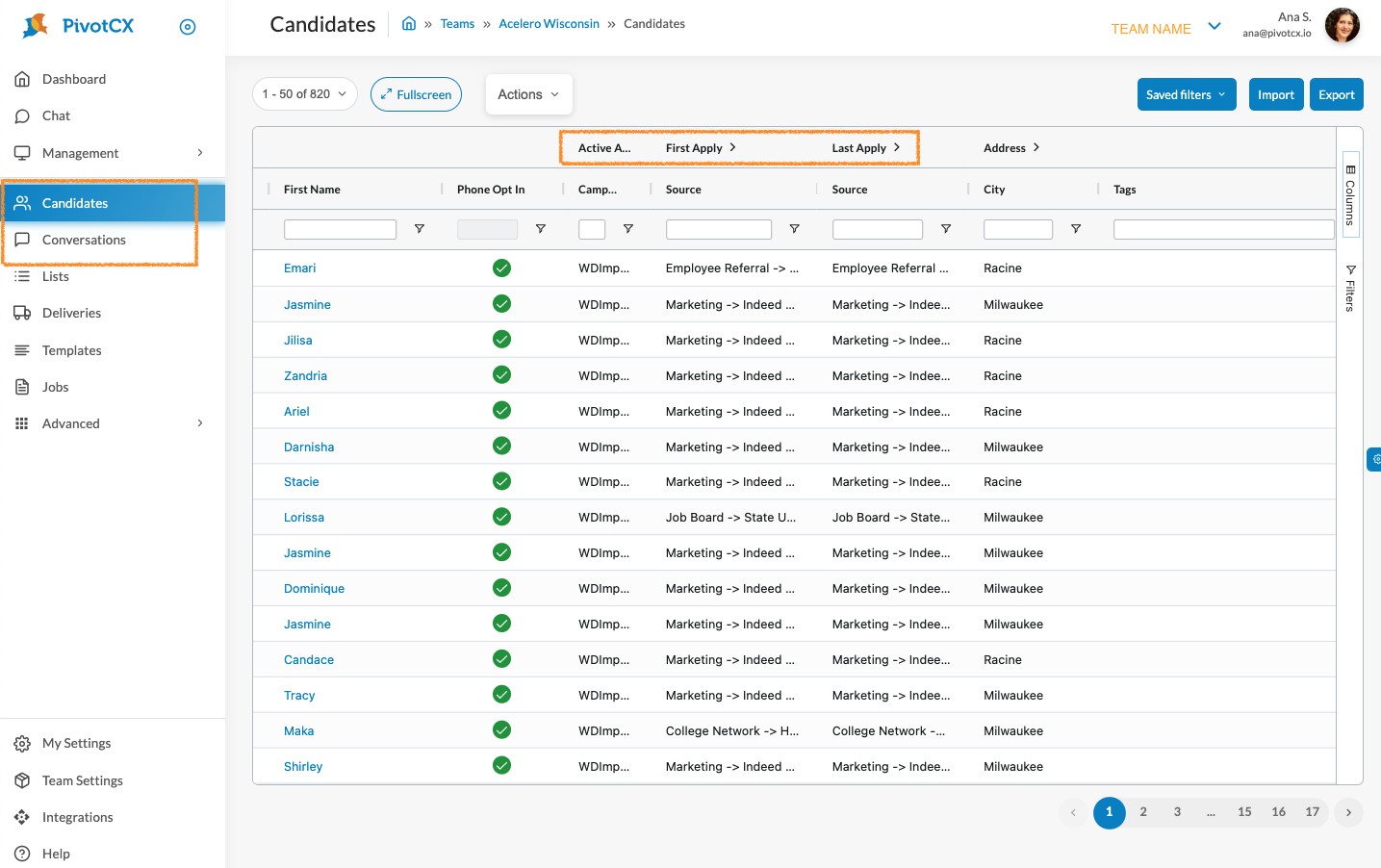 Related Articles

What is an Active Apply

An active apply is the position currently being screened with the candidate. If a candidate has applied for more than one position, all of the applies will appear in the candidate information panel under "Other Applications". Candidate Advocates will ...

Statuses in PivotCX

Apply statuses allow Candidate Development Representatives (CDRs) and recruiters to better control applicant flow, from when job applicants first apply to the dispositioning of their application. Delivery and Follow-up Workflow Once PivotCX CDRs ...

Merge Codes

Description Merge codes make messages more personal and help you get more done in less time. Instead of writing out a name, email address, job title, or other information already in PivotCX, you can type a merge code, and PivotCX will automatically ...

How to Apply Filters

PivotCX provides easy-to-use yet powerful tools to sort data about your job candidates. They allow users to gain insight into their data and a more effective way to target future recruiting efforts. To apply filters on any grid in PivotCX, click on ...

Funnel Metrics (for Recruiting)

Overview The funnel shows the flow of applicants to delivered, qualified candidates. Use the funnel chart to visualize the flow of applicants to qualified candidates. Applies The number of applicants received by PivotCX from all sources. It is ...