Using Keywords for Recruiting
A text keyword is an informative word that connects you and your audience using a text-enabled phone number or short code.



Text Keyword is one of the most effective ways to reach your target audience by allowing them to opt-in to your content. Additionally, it is an easy way to separate people into more targeted groups (by location, job title, etc.).
How do Text Keywords Work?



When someone sends your keyword to your phone number, they agree to receive text messages from your team. They'll receive an automated text message with an explanation of what to expect, a call-to-action and information on how to opt-out if they so choose. In PivotCX, a keyword can also trigger human-to-human conversations with our Candidate Development Reps who chat with candidates to make sure they are qualified for specific job positions. Keywords can also be set up as a jumpboard to full texting Campaigns pre-set with specific messages at set intervals.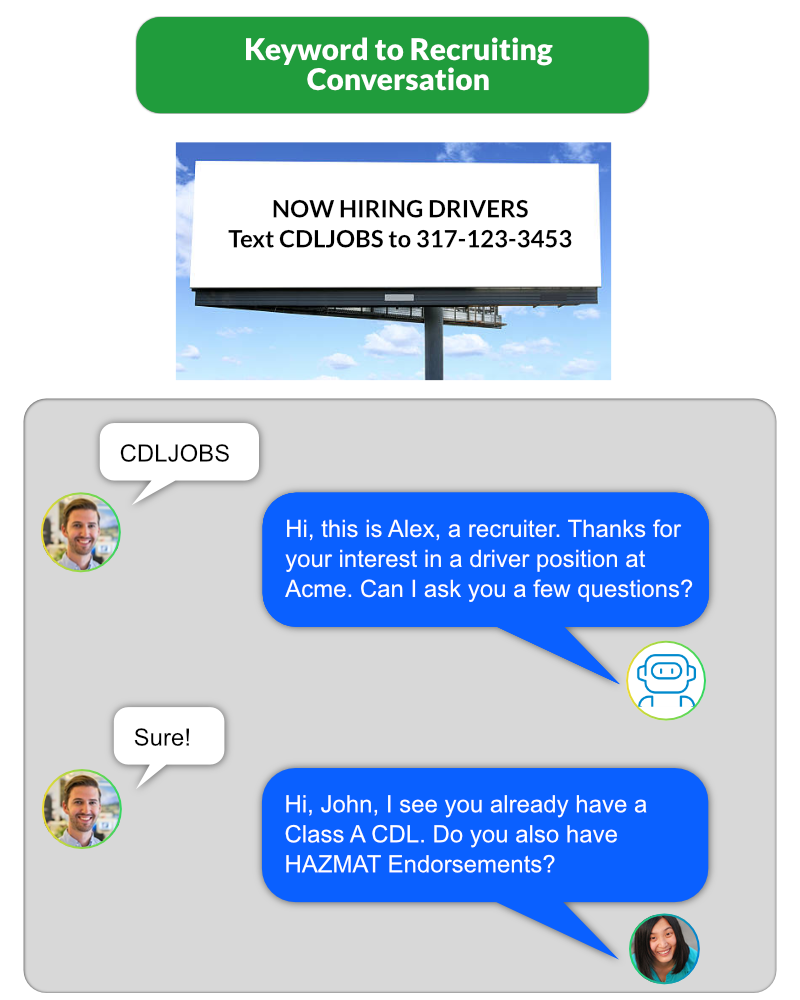 Setting Keywords in PivotCX
PivotCX lets you easily set up an unlimited number of keywords. To get started, go to Team Settings in PivotCX and click on the Keywords tab.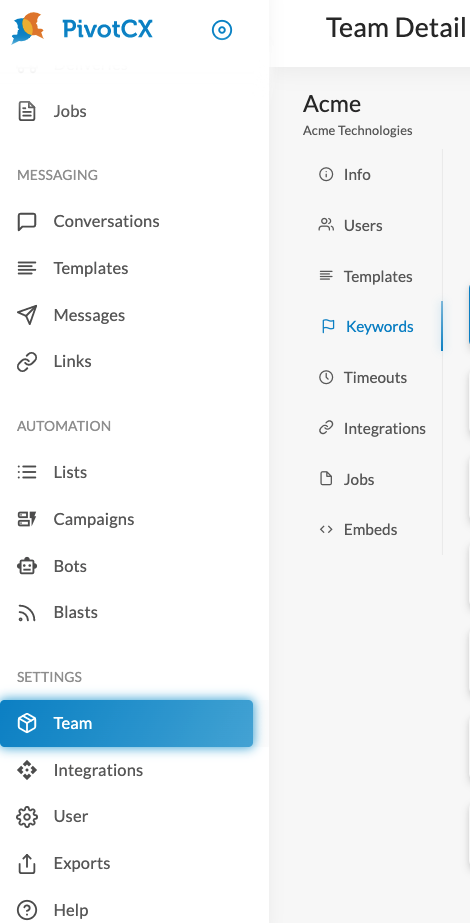 Type your new keyword and click on "Add"

Edit the template that will be sent every time someone texts your keyword to your phone number. Don't forget to click save once you've finished your updates.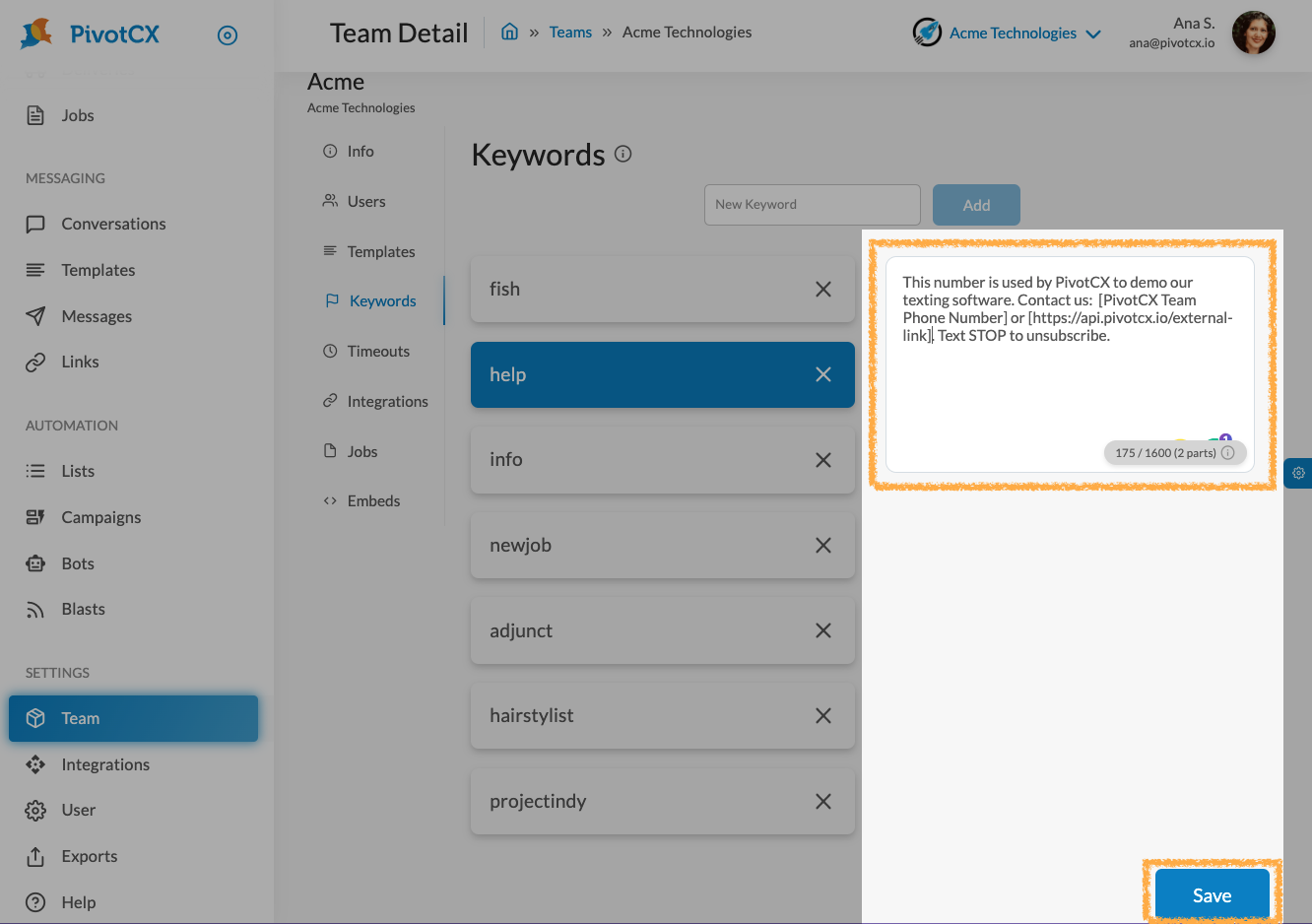 Best Practices
Keep your keyword short and to the point.

The easiest it is for someone to remember and spell your keyword correctly when texting the better results you'll get from your campaigns.


Connect with your audience.

Use keywords that relate to your campaign.


Share your keywor

d

.

Market your word on your and your candidates' social networks and don't forget other traditional media they might consume.


Use UPPERCASE.

Advertise your keyword using uppercase letters to make it easy for people to read.
Related Articles

Phone Numbers and SMS Throughput

The rate SMS messages are delivered is determined by the kind of phone number. Selecting the right number is simple: If you need to appear to be local ➝ Localized Phone Number (10DLC) Higher capacity, local not important ➝ Toll-Free Maximum ...

Funnel Metrics (for Recruiting)

Overview The funnel shows the flow of applicants to delivered, qualified candidates. Use the funnel chart to visualize the flow of applicants to qualified candidates. Applies The number of applicants received by PivotCX from all sources. It is ...

SMS Messages and SMS Segments

SMS messages are limited in size to 160 characters each. If you exceed 160 characters, the message is broken up into segments, each of which is up to 153 characters in length. Each segment is billed as a separate SMS message. Some characters count ...

What is an Apply Status

Apply statuses allow candidate advocates and recruiters to control better applicant flow from when job applicants first apply to the resolution on their application. Delivery and Follow-up Workflow Once PivotCX Candidate Advocates have pre-screened ...

What is a CDR

Although chatbots are getting all the buzz in recruiting lately, we at PivotCX understand that they have limitations when developing a connection with job seekers. For this reason, we have enlisted Candidate Development Representatives (CDR) to be ...