Having the correct filters in a PivotCX chat allows Chat Agents, Hiring Managers, and Recruiters to work more efficiently and minimizes the possibility of missed conversations.

How to update Filters



Once in the chat view, click the funnel icon to update the filters.
Click the funnel again to minimize the filter settings when you complete your changes.
Introducing Presets



Now it is easier than ever to update your filters to maximize your chatting time.
Depending on your role, presets allow you to easily change your filters to leverage the Smart List so you can get more done.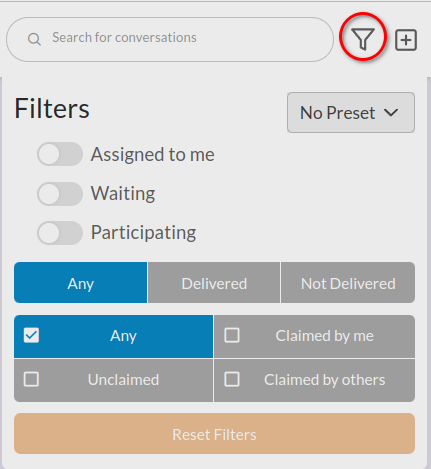 In addition to presets, users can manually change their filters to customize the conversations in their Smart List. Users can remember they have made a manual filter because the funnel icon will appear filled in. Clicking on the Reset Filters button will remove manual changes to a preset.