Error: Problem creating contact list when importing spreadsheet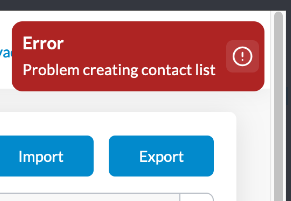 If you get a "problem creating contact list" when importing a spreadsheet, it usually means that there is a problem with the spreadsheet. Here is how to check your spreadsheet for problems:
Check the headings. If you have an extra heading on one different than the default headings the import will fail. To fix, make sure your headings match the import template.

Check for blank rows. To fix, remove blank rows.

Related Articles

Importing Candidate Lists

Importing a list of candidates from a previous or current ATS is quickly done in PivotCX. We've created a 5 step process to help break it down. Importing candidates makes it easier to engage with candidates as soon as possible. Here are several ...

A Contact Sent STOP in the middle of a conversation, and I can't reply to them.

When a contact opts out by sending the word STOP, we cannot text them unit we receive START. TCPA requires this, and only the contact can reauthorize us to send messages, and only by texting the word START: If a contact has not sent START, we ...

Adding Filtered Candidates to a List

After applying filters to select candidates you want to segment out, click on Actions on the top left of the grid to "Add filtered Candidates to list." Don't forget to give your new list a new name and click "Add." You'll automatically move to the ...

Filtering the Candidates Tab in PivotCX

PivotCX's Candidate tab provides a snapshot of your past candidates' contact information and info from the applications they have submitted for your jobs. One of the most powerful ways to leverage PivotCX is by creating remarketing blasts or ...

Creating a Blast

What is a blast in PivotCX? A blast is a single text message sent out to a list of contacts. You can schedule your blast to go out at a specific time, or you can send it out immediately. How to create a Blast? Choose a list or create a list of ...